Russian tongue twisters, also known as skorogovorki, are delightful wordplay exercises that challenge your pronunciation skills in the most entertaining way.
In this article, we'll explore 25 Russian tongue twisters specially curated for beginners. These tongue twisters will not only make you giggle but also help you improve your Russian diction and get acquainted with the unique sounds of the language. Most of them are quite short and easy. If you're a beginner in Russian, they'll be great for you.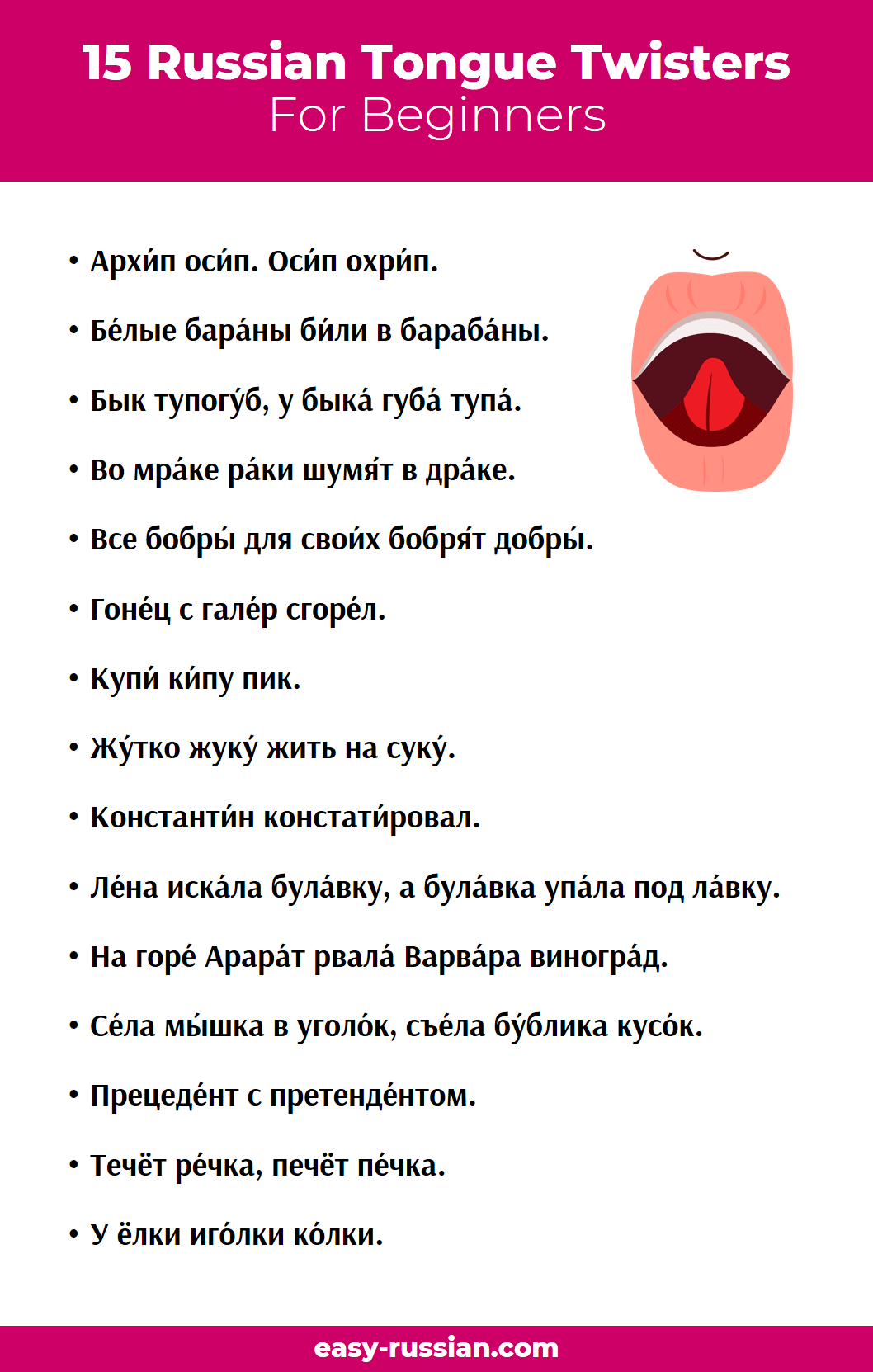 Архип осип. Осип охрип.
Белые бараны били в барабаны.
Бык тупогуб, у быка губа тупа.
Во мраке раки шумят в драке.
Все бобры для своих бобрят добры.
Гонец с галер сгорел.
Жутко жуку жить на суку.
Константин констатировал.
Королева кавалеру подарила каравеллу.
Купи кипу пик.
Коси, коса, пока роса, роса долой – и мы домой.
Лена искала булавку, а булавка упала под лавку.
На горе Арарат рвала Варвара виноград.
Осип охрип, а Архип осип.
От топота копыт пыль по полю летит, пыль по полю летит от топота копыт.
Селa мышкa в уголок, съелa бубликa кусок.
Прецедент с претендентом.
Течёт речка, печёт печка.
Тщетно тщится щука ущемить леща.
У ежа ежата, у ужа ужата.
У ёлки иголки колки.
Цапля чахла, цапля сохла, цапля сдохла.
Шесть мышат в камышах шуршат.
Я бродил один у горки, собирал скороговорки.
Чеpепaхa, не скучaя, чaс сидит зa чaшкой чaя.
See Also: 100 Popular Russian Idioms and How to Use Them
Watch the video to learn how pronounce all the phrases correctly.