In the Russian language, there are certain words that never change their form, regardless of whether they are singular or plural. These words are borrowed from other languages and are known as invariant nouns. They are unique in that they do not have different forms for different grammatical cases. That's why they are also called indeclinable nouns.
For example:
встретимся (у чего?) у кафе;
пойти (во что?) в кафе;
посидеть (в чём?) в кафе.
In the composition of such nouns, it is impossible to distinguish the word-forming morpheme – the ending. Invariant nouns generally end in the vowel sounds -е, -и and -о. These forms remain unchanged regardless of the grammatical case they are used in.
радио – radio
кафе – cafe
бюро – bureau
киви – kiwi
Some indeclineble nouns in Russian end in the vowel sounds -у, -э, -ю, and when stressed, -а.
кенгуру – kangaroo
бра – sconce
каноэ – canoe
меню – menu
There are many indeclinable words in Russian: these include adverbs, certain animate and inanimate nouns, names of countries, cities, states, surnames, and more. The complete list will be provided below.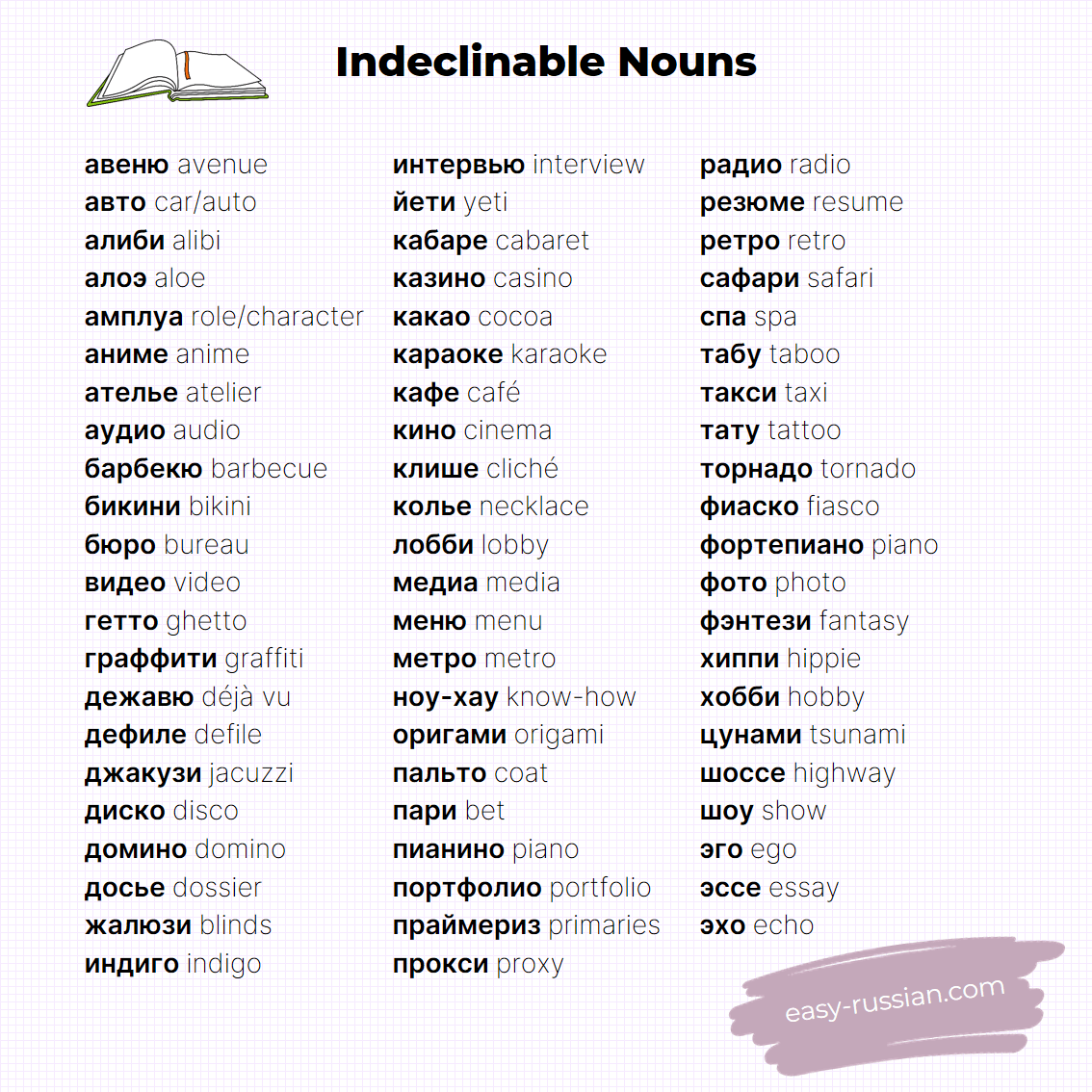 Inanimate Nouns
Words of foreign origin listed below have been adopted into the Russian language without undergoing inflection or declension. These words maintain their original form regardless of case, number, or gender.
Nouns denoting inanimate objects, mostly belong to the neuter gender.
авеню – avenue
авто – car/auto
акне – acne
алиби – alibi
алоэ – aloe
амплуа – role/character
аниме – anime
ателье – atelier
аудио – audio
банджо – banjo
барбекю – barbecue
барокко – baroque
бикини – bikini
бинго – bingo
бистро – bistro
боа – boa
бунгало – bungalow
бюро – bureau
видео – video
вуду – voodoo
галифе – galife
гестапо – Gestapo
гетто – ghetto
Гран-при – Grand Prix
граффити – graffiti
дежавю – déjà vu
декольте – décolleté
депо – depot
дефиле – defile
джакузи – jacuzzi
джерси – jersey
диско – disco
домино – domino
досье – dossier
драже – dragee
жабо – jabot
жалюзи – blinds
зебу – zebu
зеро – zero
иглу – igloo
индиго – indigo
интервью – interview
инь-ян – yin-yang
йети – yeti
йо-йо – yo-yo
кабаре – cabaret
казино – casino
казус белли – casus belli
какао – cocoa
камео – cameo
кандзи – kanji
кане-корсо – Cane Corso
каноэ – canoe
капо – capo
караоке – karaoke
карго – cargo
каре – bob
кафе – café
кашне – cornice
кашпо – flowerpot
кепи – cap
кечуа – Quechua
кило – kilo
кимоно – kimono
кино – cinema
клише – cliché
колье – necklace
комьюнити – community
конфетти – confetti
котацу – kotatsu
кредо – creed
крупье – croupier
кукри – kukri
купе – coupe
лассо – lasso
либидо – libido
лобби – lobby
лого – logo
лото – lotto
макраме – macramé
манто – mantle
масс-медиа – mass media
мачете – machete
медиа – media
меню – menu
метео – weather
метро – metro
мультимедиа – multimedia
мумиё – mumijo
нейтрино – neutrino
ноу-хау – know-how
нэцкэ – netkei
оригами – origami
пальто – coat
панно – panel
папье-маше – papier-mâché
пари – bet
пенальти – penalty
пенни – penny
пенсне – pensée
пепси – Pepsi
пианино – piano
пике – piqué
пикельхаубе – pickelhaube
плато – plateau
плацебо – placebo
попурри – potpourri
портмоне – wallet
портфолио – portfolio
портье – porter
праймериз – primaries
пресс-папье – paperweight
прокси – proxy
промилле – per mille (promille)
пуукко – puukko
рабби – rabbi
радио – radio
ралли – rally
рандеву – rendezvous
рантье – rentier
ранчо – ranch
реалити-шоу – reality show
ревю – revue
резюме – resume
реле – relay
реноме – reputation
ресепшн – reception
ретро – retro
рококо – rococo
сальдо – balance
сальто – somersault
сальто-мортале – somersault
сари – sari
сате – satay
сафари – safari
саше – sachet
селфи – selfie
сирокко – sirocco
сомбреро – sombrero
сорго – sorghum
спа – spa
статус-кво – status quo
сторис – stories
судоку – sudoku
суперкарго – supercargo
табло – tableau
табу – taboo
такси – taxi
таро – tarot
тату – tattoo
торнадо – tornado
торпедо – torpedo
трико – tricot
трио – trio
трюмо – trumeau
турне – tour
факсимиле – facsimile
фи – phi
фиаско – fiasco
фойе – foyer
фортепиано – piano
фото – photo
фэнтези – fantasy
фэншуй – feng shui
хайку – haiku
халлуми – halloumi
харакири – harakiri
хиппи – hippie
хобби – hobby
худи – hoodie
цзяньчжи – Jiangxi
ципао – cheongsam
цунами – tsunami
шале – chalet
шасси – chassis
шато – chateau
шиацу – shiatsu
шоссе

– highway

шоу

– show

эго

– ego

эмбарго

– embargo

эмодзи

– emoji

эрху

– erhu

эскарго

– escargot

эссе

– essay

эфенди

– effendi

эхо

– echo

юката

– yukata

якудза

– yakuza
That's not the end. There are more words below for you to explore. The list is quite extensive, so to make it easier, I have divided it into several groups. These are all foreign words as well.
Sports and martial arts:
регби – rugby
поло – polo
ватерполо – water polo
дерби – derby
айкидо – aikido
джиу-джитсу – Brazilian jiu-jitsu
дзюдо – judo
карате – karate
сумо – sumo
тхэквондо – taekwondo
ушу – wushu
самбо – sambo
кунг-фу – kung fu
Musical terms, including genres and dance names:
хакка – Hakka
ча-ча-ча – cha-cha-cha
танго – tango
кабуки – kabuki
лансье – lancer
сольфеджио – solfège
сопрано – soprano
адажио – adagio
либретто – libretto
модерато – moderato
соло – solo
регги – reggae
техно – techno
кантри – country
Foods and drinks:
кофе – coffee
эспрессо

– espresso

латте – latte
бордо – Bordeaux
боржоми – Borjomi (a brand of Georgian mineral water)
виски – whiskey
просекко – prosecco
пино-нуар – pinot noir
саке – sake
кьянти – Chianti
мартини – martini
мате – mate
смузи – smoothie
мацони – masoni
маскарпоне – mascarpone
кимчхи – kimchi
мюсли – muesli
оливье – Olivier (Olivier salad)
роти – roast
ризотто – risotto
потофё – potpourri
манду – mandu
эскарго де Бургонь – escargot de Bourgogne
сациви – satsivi
сулугуни – suluguni
спагетти – spaghetti
суфле – soufflé
крем-брюле – crème brûlée
желе – jelly
суши – sushi
тофу – tofu
харчо – kharcho
хачапури – khachapuri
фуа-гра – foie gras
фугу – fugu
чахохбили – chakhokhbili
хмели-сунели – khmeli-suneli
фондю – fondue
филе – fillet
пюре – puree
рагу – ragout
тирамису – tiramisu
тэрияки – teriyaki
сасими – sashimi
безе – meringue
васаби – wasabi
канапе – canapé
карри – curry
короккэ – korokke
нори – nori
салями – salami
саго – sago
Fruits and vegetables:
авокадо – avocado
киви – kiwi
цуккини – zucchini
брокколи – broccoli
кольраби – kohlrabi
чили – chili
фейхоа – feijoa
унаби – unabi
манго – mango
личи – lychee
помело – pomelo
Animal Names:
гризли – grizzly
шимпанзе – chimpanzee
динго – dingo
какаду – cockatoo
иваси – ivasi
колибри – hummingbird
колли – collie
коати – coati
эму – emu
фламинго – flamingo
кенгуру – kangaroo
пони – pony
Names of peoples or languages:
майя – Maya
янки – Yankees
суахили – Swahili
зулу – Zulu
хинди – Hindi
эсперанто

– Esperanto

филипино – Filipino
фарси – Farsi
квенья – Quenya
ханьцзы – Han Chinese
корё-сарам – Korean saram
словио – Slovio
лингала – Lingala
кри – Cree
маратхи – Marathi
путунхуа – Putonghua
маори – Maori
мари – Mari
коми – Komi
пали – Pali
пиджин – Pidgin
сранан-тонго – Sranan Tongo
чероки – Cherokee
ория – oria
рунди – rundi
себуано – Cebuano
хайда – Haida
хань – Han
хуацяо – Huaciao
хуэй – Hui
чжуинь фухао – Zhuang Fu language
шона – Shona
юри – Yurirense
Currencies:
тенге – tenge
сомони – somoni
евро – euro
лари – lari
песо – peso
Some nouns have no gender, as they are only used in plural:
бигуди – hair rollers
жюри – jury
козинаки – nougat
Animate Nouns
In Russian, animate indeclinable nouns are typically classified as masculine gender nouns. Regardless of the actual gender of the living beings they represent, these nouns are treated grammatically as masculine. This means that they are accompanied by masculine pronouns, adjectives, and verbs.
Here's the list:
атташе – attaché
бариста – barista
жиголо – gigolo
камикадзе – kamikaze
рефери – referee
травести – travesty
инкогнито – incognito
папарацци – paparazzi
бизнесвумен – businesswoman
зомби – zombie
протеже – protege
профи – professional
гуру – guru
денди – dandy
мафиози – mafioso
месье – mister (title of respect for a man in French)
ниндзя – ninja
импресарио – impresario
шансонье – chansonnier
буржуа – bourgeoisie
визави – vis-à-vis
граммар-наци – grammar Nazi
конферансье – compère
кутюрье – couturier
сомелье – sommelier
мачо – macho
маэстро – maestro
For example, the word "маэстро" (maestro), although it can refer to both male and female conductors or masters, is still treated as a masculine noun.
It's important to note that despite being classified as masculine gender nouns, these words can still refer to individuals of any gender. Grammatical gender in Russian does not always align with biological gender or the gender of the referent.
See Also: How to Determine the Gender of a Russian Noun
Words like профи, хиппи, визави, сомелье can refer to both the masculine and feminine gender depending on which gender the person is referring to: Он/она настоящий профи.
Feminine common and proper nouns ending in a hard consonant are also indeclinable.
мадам, мисс, миссис, мэм, мад(е)муазель, леди, миледи, фрау, фройляйн, пани;
Маргарет, Элизабет.
Place Names
Countries, cities, rivers, etc. ending in -о, -у, -е, -э, -и, -уа, -оа, -иа, -ы do not change their form.
Токио
Айдахо
Осло
Косово
Никарагуа
Бразилиа
Баку
Катманду
Батуми
Сан-Диего
Сан-Марино
Сан-Паулу
Сан-Франциско
Алматы
Бали
Сомали
Сочи
Тольятти
Хельсинки
Миссисипи
Миссури
Марокко
Глазго
Марий Эл
Кабо-Верде
Гаити
Карачи
Макао
Сухуми
Малави
Пуэрто-Рико
Гродно
Гуанчжоу
Скопье
Дели
Таити
Сьерра-Леоне
Перу
Янцзы
Душанбе
Туапсе
Зимбабве
Кентукки
Коми
Конго
Лесото
Онтарио
Торонто
Осло
Останкино
Сватово
Цхинвали
Хельсинки
Чикаго
Чили
Коломбо
Мехико
Монако
Монте-Карло
Монтевидео
Парамарибо
Нью-Дели
Нью-Джерси
Нагано
Нагасаки
Тбилиси
Мумбаи
Рио-де-Жанейро
Улан-Удэ
Сантьяго
Хуанхэ
It is also recommended to use the name Бангладеш (Bangladesh) as an indeclinable noun. According to the rules of the language, the country name Бангладеш is indeclinable.
See Also: Countries Vocabulary in Russian
Surnames
Foreign names and surnames ending in -е, -и and -о are indeclinable words, e.g.:
Гёте
Мао
Золя
Кун-цзы
Дюма
Коннелли
Миядзаки
Кикабидзе
Саакашвили
Фаберже
Шлосберг
Шойгу
Slavic surnames ending in -о, -ко, -аго (-яго), -ово, or -ых (-их) are also not declined. Same for surnames ending in a consonant and referring to persons of the female gender.
Кличко, Захаренко, Иващенко, Кравченко, Лукашенко, Нетребко, Живаго, Дубяго, Барских, Долгих, Черных, Зубаревич (f.), Ковальчук (f.), Кушнарь (f.), Соловей (f.), Соболь (f.), Шульман (f.).
Abbreviations
In Russian grammar, compound abbreviated words and letter and sound abbreviations are not declined, for example:
роно
сельпо
политбюро
миноборон
завкафедрой
замглавы
замдиректора
замминистра
замначальника
врио
ЖКХ
 ГЭС
 ВДНХ
 МГУ
 ООН
 НАТО
 ЮНЕСКО
 ВТО
 ВВП
 ВИЧ
 КНДР
 КНР
 США
So, we have explored the world of indeclinable nouns in the Russian language. I hope, through this article, you have gained a deeper understanding of these unique nouns, which do not change their forms to match different cases or genders.
Indeclinable nouns add diversity and complexity to the Russian language. They encompass a wide range of words, including loanwords, proper names, and some common nouns. Understanding how these nouns function will greatly enhance your comprehension and fluency in Russian.
Keep up the great work, and happy language learning!